One of the most fertile villages of Naxos, Potamia, is the traditional and family tavern "Vassiliko".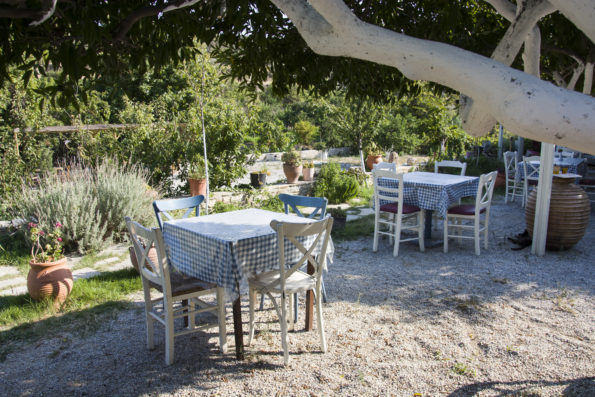 "Vassiliko" is "hidden" in the green Lierado, between Kato and Mesi Potamia, next to the river. The fact that it is halfway through one of the most famous hiking trails of the island has become the meeting point for those who love hiking. The incomparable beauty of the natural environment, the hospitable mood and traditional dishes are the three main features that make friends and visitors prefer us.
What is our secret about the rich flavor and the strong aromas of the food we offer? The fact that we use fruits and vegetables from our orchards and gardening local meats and poultry.
The famous Naxian potatoes with their special taste, our sweet eggplants, our tomatoes, vine leaves and many other fruits and vegetables, come to your plate for a while, after they are gathered from our garden.
We are sure you will love the sour cream that we make from pure goat milk that milks up to our farm, especially if you prefer it in the village salad. The wine, which we make in the old traditional way, with grapes from our vineyard, you will remember it as something special. You can not resist our delicious traditional dishes, such as wine rooster, goat hat, stuffed zucchini and rabbit stew.
Fresh seasonal fruits from our orchard and homemade sweets will complete your meal in the most beautiful way!
We undertake to organize for you any kind of social event and celebration that will remain unforgettable to you and your guests.